Tips for a Great Remote Deposition
Conducting remote court depositions lends flexibility to the process for all involved, which translates into cost savings for the parties. Costs like travel, food, court reporter services, and office services are significantly lessened or become unnecessary altogether. Still, making remote depositions work requires increased cooperation from all parties. Following are a few tips and cautions to ensure that your remote deposition is excellent.
Consistency of Standards
A general method of discovery is depositions. A deposition is an out-of-court statement given under oath by a party or non-party in a case. The statements given in depositions may be used at trial or in preparation for trial. The deposition can be a written transcript, a videotape, or both. Either party may take the deposition of the other party or of any witness, and both sides to an action can be present during depositions.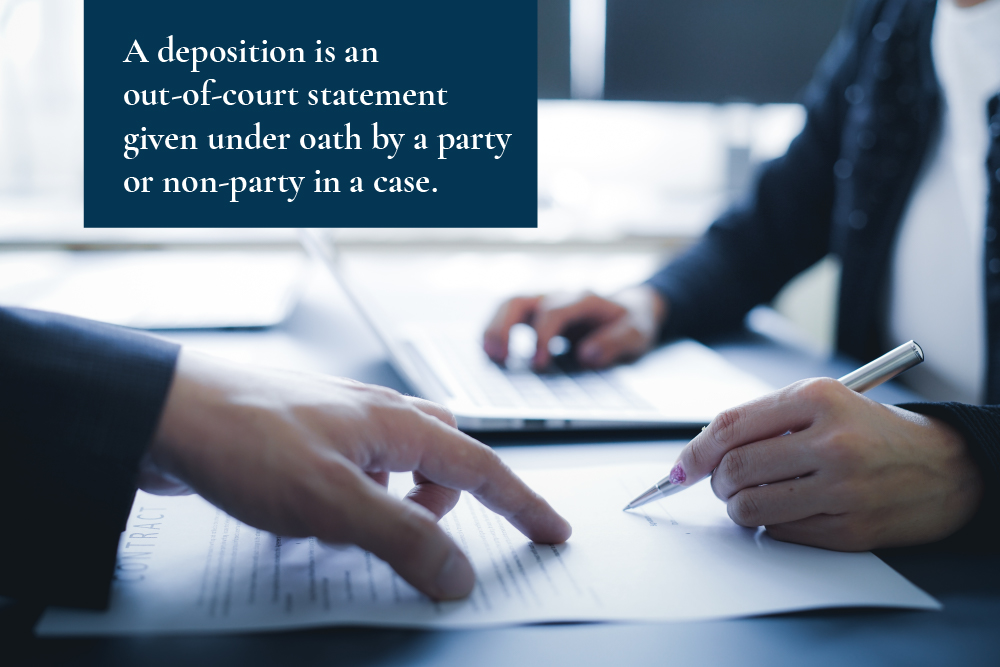 Conducting a deposition in friendly territory makes everyone feel more confident about the proceeding. But it is not always convenient to have the person to be questioned — also called the deponent — appear in the city or offices of the person who will question them.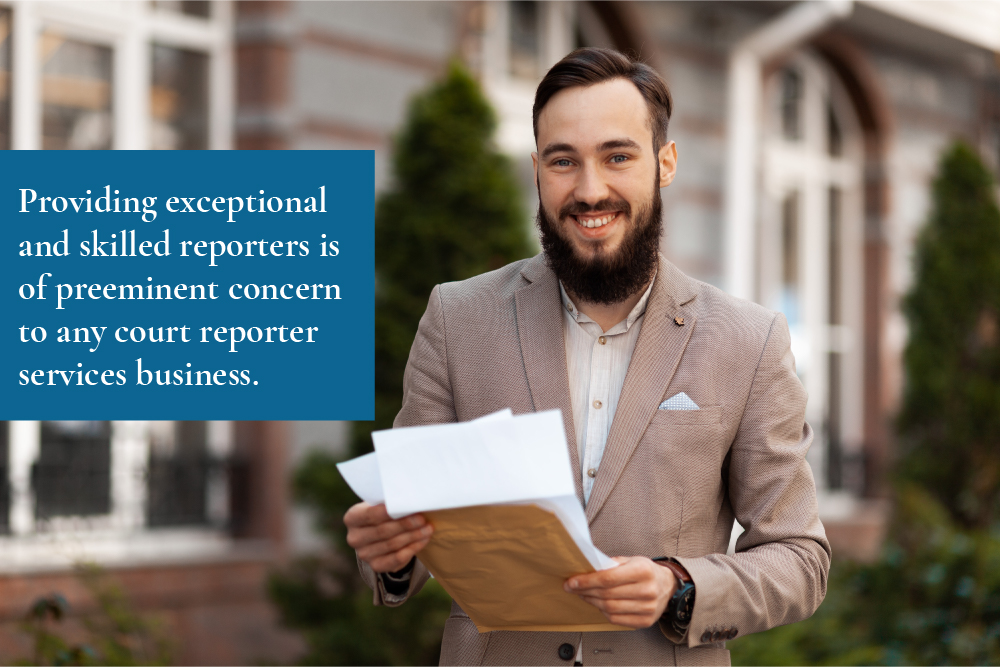 Fortunately, remote deposition technology is more than reasonably reliable and easy to use. Utilizing local court reporting services that meet the standards you have come to expect is easy when you use DepoSpan. By using a network of local, independently owned court reporter services, DepoSpan clients can be confident all the bases are covered. The key is having consistency of standards with deposition services across the board, including:
Who is Allowed to Attend a Deposition?
When conducting a remote deposition, parties and those representing them would prefer to have as much control over the proceedings as possible. Typically, anyone may attend depositions since they are considered public proceedings. That is, they are part of court proceedings. But those usually in attendance include:
The attorney conducting the deposition
The deponent and their legal counsel
Legal counsel for other parties
A court reporter and someone to administer oaths (who may also be the court reporter)
In addition, depending on the type of deposition to be conducted, others involved may include:
Videographer
Interpreter
Expert witness
A professional consultant
It is possible to exclude individuals from attending a deposition by obtaining a protective order. As one can imagine, when planning a remote deposition, having a service that understands all that is involved and can take control of the preparations can put everyone's mind at rest. That is why DepoSpan providers across the board adhere to integrity, accuracy, and dedication to excellence standards.
Services Beyond Just Court Reporting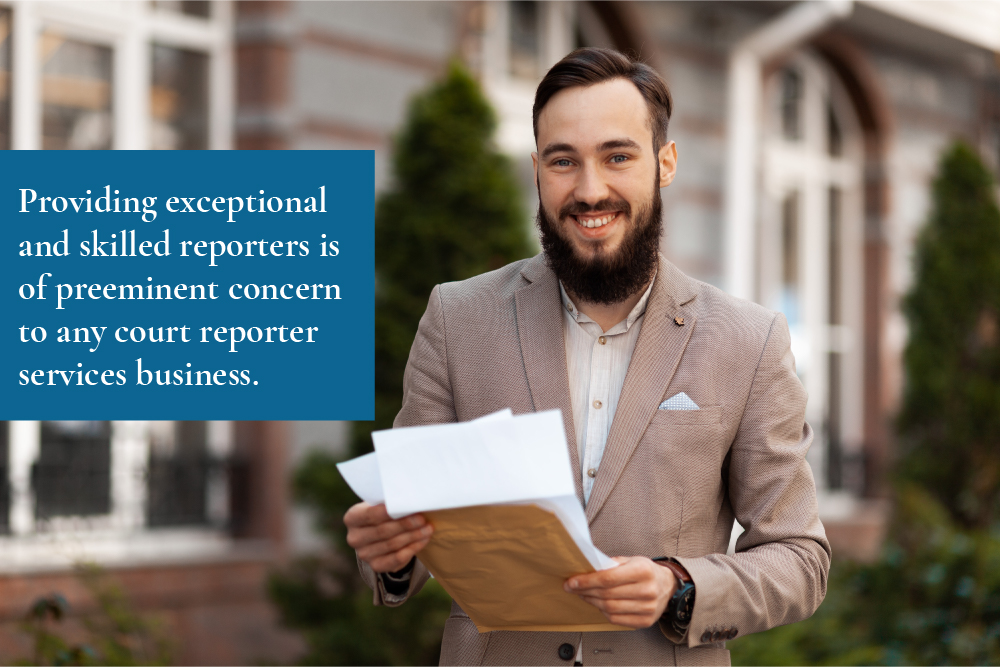 Providing exceptional and skilled reporters is of preeminent concern to any court reporter services business. DepoSpan delivers the entire package of dependable and superior services and attention to cover all the bases a remote deposition may require. These include:
Case Management
DepoSpan providers deliver personalized support at competitive prices, such as:
Managing your deposition calendar, transcripts, invoices, exhibits, video proceedings, and other deposition-related documents and personnel necessary in the preparation and execution of a successful deposition
Professional IT and back-office support when you need it
Quality case support, nationally and internationally, by top reporting experts
Conference Rooms
DepoSpan's network of local, independently owned court reporting providers support full-accommodation conference rooms in all major cities that can include:
World-class video conferencing equipment
State-of-the-art audio-video equipment
High-speed internet
And more
Know in advance that you will have comfortable facilities to conduct a deposition, interview a client, or meet with colleagues.
Legal Videography
DepoSpan providers use only the latest technologies in videography. Some of the services available include:
Video depositions
Certified videographers
Video/transcript synchronization
And much more
Be assured that you are receiving the highest-quality recordings and video transcript synchronization when using a DepoSpan provider.
Litigation Support
DepoSpan providers guarantee your complete satisfaction with exceptional service, whether your case is large or small. Full litigation support tailored to your specific needs from service of process to mock jury trials and more, including:
Interpreter/translation arrangements
Equipment Rental/ Trial Support
Paperless Depositions
And much, much more
DepoSpan's providers offer a comprehensive suite of litigation services to ensure your entire litigation process runs as effortlessly and efficiently as possible.
Videoconferencing
Control your client costs and maximize your time and efficiency by eliminating unnecessary travel, delays, and scheduling conflicts. Use the remote platform that suits your needs, such as:
Zoom
WebEx
AgileLaw
And others
Perform depositions, meetings, witness interviews, any case-related activity 24 hours a day, seven days a week, without ever leaving leave town.
A Tips Checklist
Remote video depositions are probably here to stay. Not only for health concerns but for their convenience and cost-savings. Five practical tips to consider when scheduling and taking remote video depositions include:
Avoid any misunderstandings with a deposition notice that specifies that the deposition will be handled remotely by video.
Ensure all technical issues are correctly addressed and perform test runs.
Record the video.
Close all unrelated programs on the computer, such as email, web-browsers, etc.
Avoid the potential of outside interference before the deposition begins.
Fortunately, by using a DepoSpan provider, none of these tips will be an issue.
Don't be fooled by claims from competitors that they have court reporters all over the globe. Only DepoSpan is a nationwide group of LOCAL agencies with real people who care and provide personalized service and better quality of work.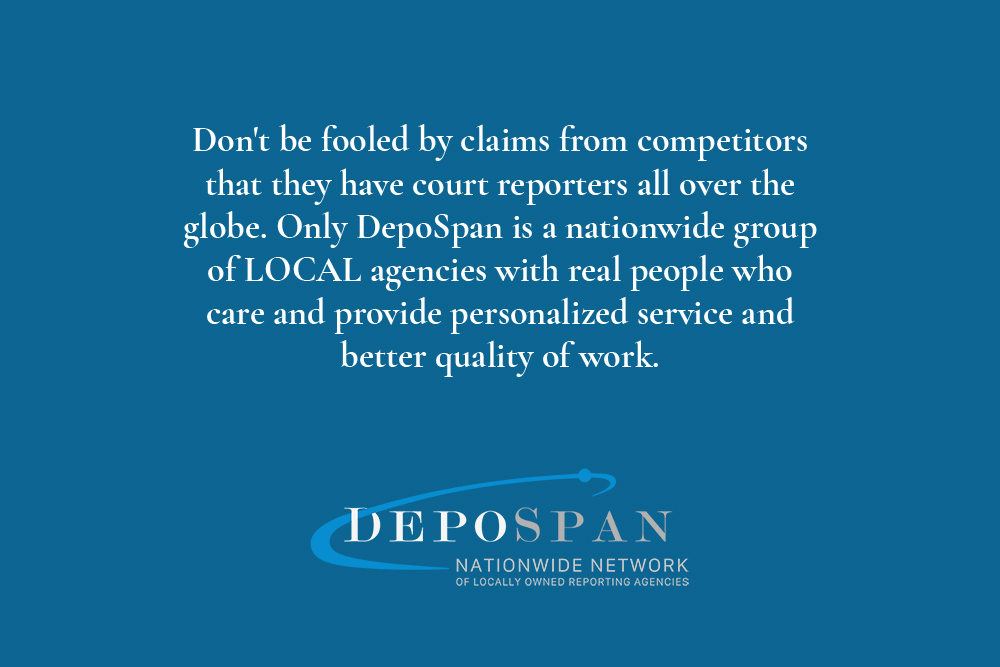 Call or Click Today
Learn more about connecting your legal team locally and globally by visiting DepoSpan online at https://depospan.com/ or call us toll-free (844) 400-DEPO.