The Importance of Legal Videography in Today's World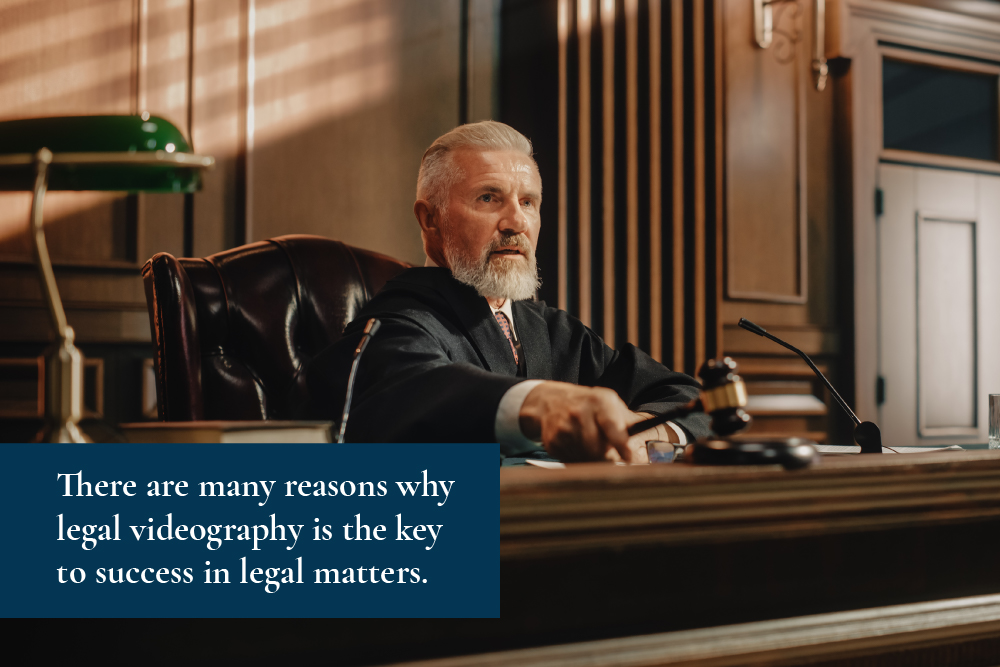 Remote communication has been at the forefront of the technology world the last few years. During the pandemic, many businesses and law firms had to quickly shift gears to remain productive and effective. For many, this meant turning to video communications as a primary mode of contact. At the current time, many firms are still relying on video technology to meet clients' needs. See what you can expect by hiring legal video services for depositions or court proceedings.
Defining the Role of a Legal Videographer
Legal videographers may go by many names, but they all perform a similar function. These trained professionals are responsible for recording courtroom proceedings and the signing of legal documents. In addition, videographers may even record crime scene footage to document evidence.
In general, there are some commonalities between traditional stenographers and legal video services. First, both roles create a verbatim record of the proceeding at hand. It is only the method used that differs. In some ways, legal videographers help capture even more details. Video footage is capable of recording facial expressions, body language and other intricacies. In this sense, a legal video service provides a complete picture of the event.
To become a legal videographer, one must have a specific skill set. These professionals need to have knowledge of video equipment and editing software. Furthermore, aspiring videographers need to complete legal video specialist certification. This includes attending a National Court Reporters Association (NCRA) seminar. In addition, an applicant must pass a written test covering videography topics and a production test. In reality, most videographers also have an associate's or bachelor's degree. As you can see, legal videographers are highly skilled.
The Importance of Video
There are many reasons why legal videography is the key to success in legal matters. Legal video service is possibly the best way to preserve evidence for future proceedings. Video has the unique advantage of providing an up-close and personal look at a witness. It allows the viewer to thoroughly analyze the expressions, body language and voice inflections associated with a piece of testimony. Therefore, video depositions provide the truest sense of testimonial evidence available.
Many attorneys are already aware of the benefits provided by legal videography. Video footage tends to be more persuasive and compelling. Thus, the firms that are already leveraging videography are gaining a competitive edge. If you find yourself still reading from a dry, bland transcript, you may want to rethink your case strategy. Even if you can't arrange videography sessions for all your witnesses, at least do so for your key witnesses. The decision to do so may be the deciding factor in the outcome of your case.
A Look at Remote Proceedings
As mentioned, the past year has presented a lot of challenges to the administration of justice. Many court proceedings and trials were canceled or postponed due to the COVID-19 pandemic. The legal community adapted by turning to technology to maintain a line of communication. Numerous web conferencing technologies have emerged to address the need. This has prompted some legal professionals to try their own hand at legal videography. Yet, in the end, the DIY approach is a bad idea.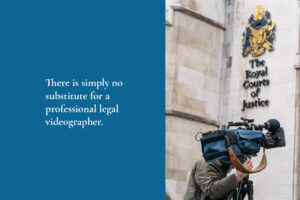 There is simply no substitute for a professional legal videographer. A legal video service comes prepared with all the proper equipment to get the job done. They also have the skill to ensure that the lighting is appropriate, the frame is set and that a neutral atmosphere exists. In addition, legal videographers can ensure that the audio is transmitted in a loud, transparent manner. Too many things can go wrong when attempting to film your own deposition. Don't risk losing access to crucial evidence by attempting to do it on your own.
One more thing to remember is that a good videography session creates an official record. A legal videographer is needed to ensure that the appropriate content is on the official record. As a neutral third party, a videographer can stop and start the record as needed. In the end, you'll get a presentable product that is admissible in court.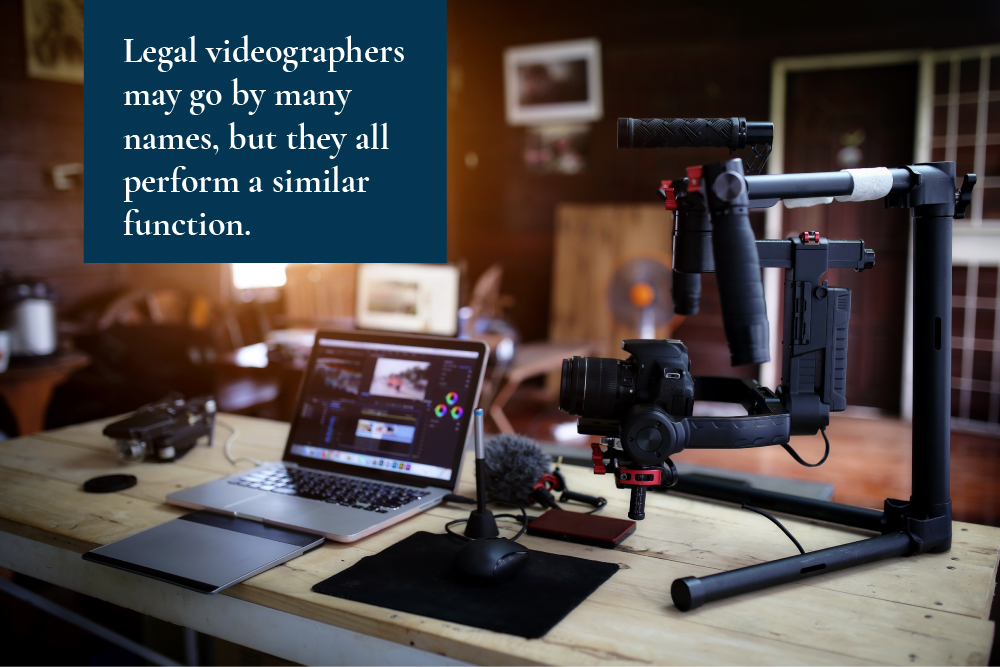 Why the Demand for Videographers Will Continue
Remote depositions and other proceedings aren't going away any time soon. The need for professional, legal videographers will continue into the future. Remote depositions can be arranged to record deponents in full screen and HD quality. Furthermore, a videographer can sync the audio track with the transcript of the proceeding. The best part is that a videography provider can set up remote depositions with different parties using their own personal devices. The ability to carry out this daunting task makes legal videographers a necessity in the current legal landscape.
DepoSpan is a leader in the court reporting field on a national level. To get started with DepoSpan's services, locate a videographer in your area by using your firm name, zip code, or state on the company's website.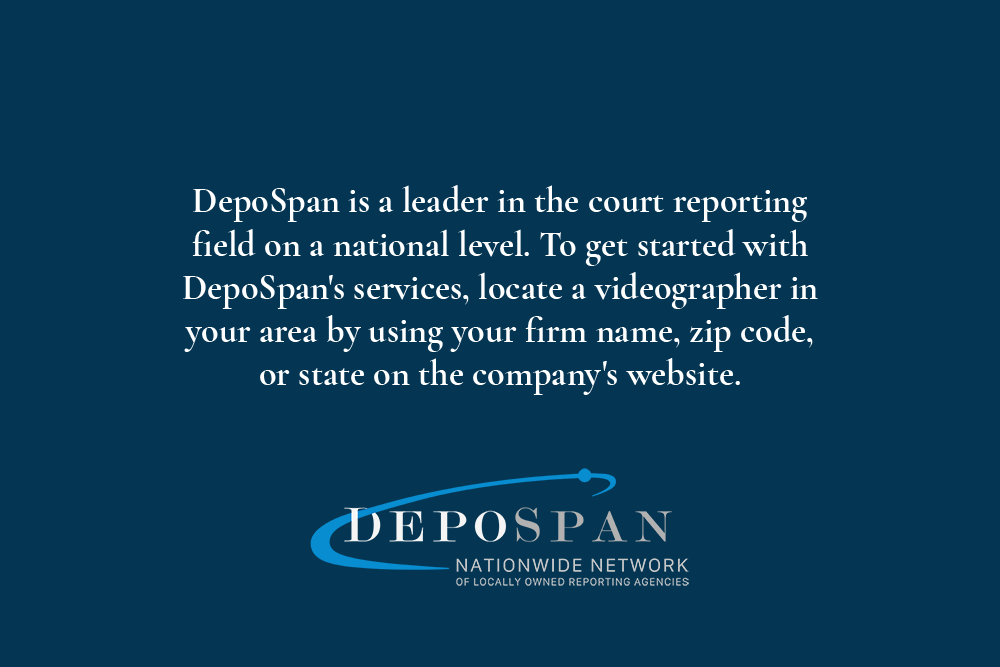 Call or Click Today
See more about DepoSpan standards of excellence online at https://depospan.com/ or call us toll-free (844) 400-DEPO.