Out of State Court Reporting & Quality Control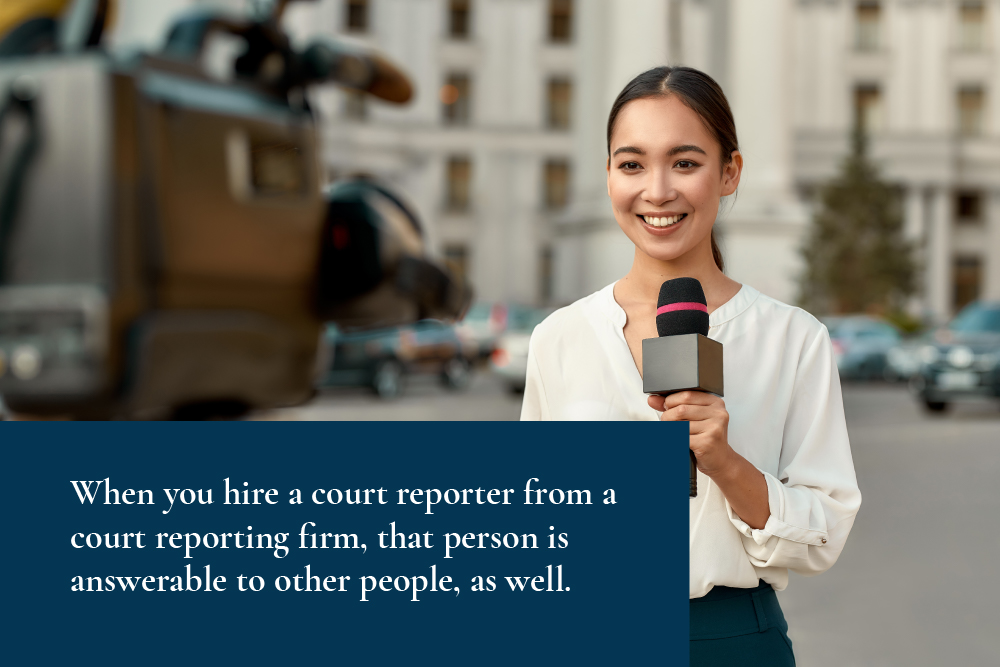 When you need an out-of-state court reporter, you want the same quality, promptness, and consistency that you receive from your local provider. Sometimes, though, the out-of-state court reporting agencies you hire fall short of the high-quality service you expected.
When you hire a court reporter from a court reporting firm, that person is answerable to other people, as well. Consistency becomes more than a catchphrase. Because you want uncompromising dependability and expertise when scheduling out-of-state depositions, depend on a service that operates as a national firm. When you schedule through DepoSpan, you receive the same quality of service regardless of where you go.
There is a growing number of "Big Box" agencies offering nationwide court reporting services. They may claim to have court reporters worldwide, but they do not. These agencies farm out reporting services to local agencies or independent reporting services, sometimes with little to no knowledge of their work ethics and product.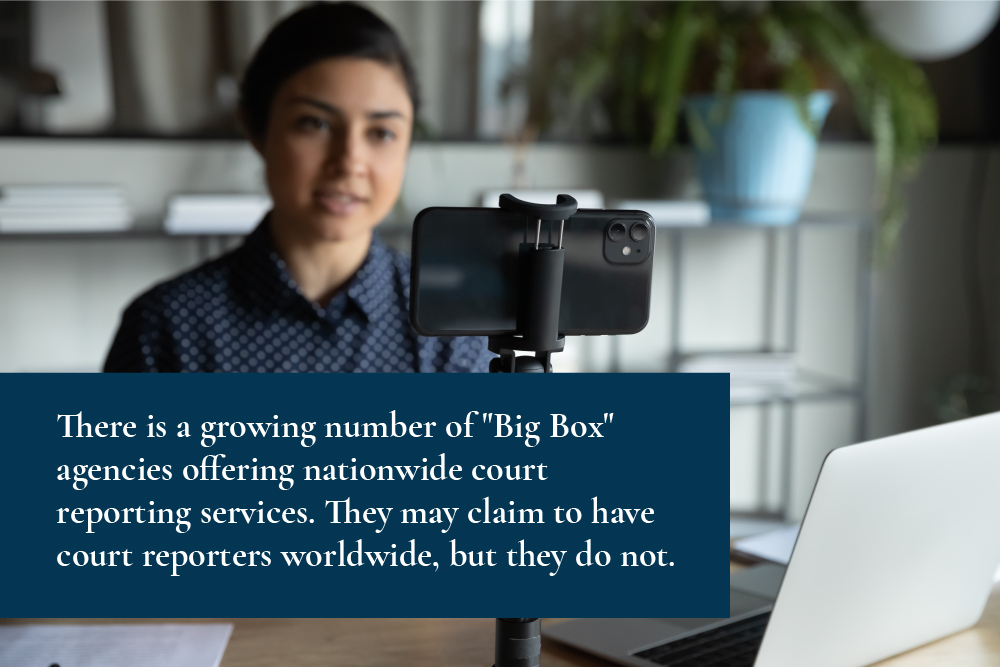 With DepoSpan, you receive consistency of service regardless of location. That is because each member of the DepoSpan family must meet the highest standards of excellence. DepoSpan is a nationwide network of independently owned court reporting agencies. Each has established itself capable of DepoSpan's highest integrity, accuracy, and dedication to quality performance.
How DepoSpan Takes the Worry Out of Scheduling Out of State
DepoSpan is a court reporting network of certified reporting agencies. Members of the nationwide network are independently owned court reporting agencies. What makes them uniquely DepoSpan is the rigorous and careful selection process to ensure client expectations are met. Benefits of using a DepoSpan court reporter include:
Centralized billing
Transcript consistency at affordable prices
Consistent case management
And more
You, too, can experience the peace of mind that comes from choosing the worldwide leader in court reporting and litigation support.
The Growing Demand for Out-of-State Court Reporters
When you hire a court reporter, they should be knowledgeable on all aspects of court reporting, including:
Real-time technology
Remote depositions
Transcript procedures
And more
Hiring an out-of-state court reporter can be challenging whether you are an attorney, paralegal, or legal assistant. Even with experience, scheduling on short notice can be a daunting task. Your options for securing a reporter may include:
Previously employed reporters. The familiar can be comforting. Nevertheless, if you are not getting satisfactory service, that is when familiarity ends.
Suggestions from peers. Busy law firms do not usually have the time to check out an out-of-state court reporter suggested to them. Referrals can only take you so far.
Online search. Without proper vetting, out-of-state court reporting agencies may disappoint by not living up to their claims on their website.
Why take chances when there is an easy and reliable alternative to playing Russian roulette with your depositions?
How to Go about Hiring a Court Reporter
Does it matter whom you hire as your court reporter? After all, if they have the credentials, aren't they all the same? No. Anyone who has done any amount of depositions, legal videography, or other services requiring a court reporting agency knows there can be a broad spectrum of differences in results.
A guide to what to look for when hiring a court reporter includes:
Who vetted the court reporter?
To whom does the court reporter answer?
Will the court reporter you hire also be a resource?
Will they be a help in an emergency?
Is the court reporter qualified to take expert testimony in a deposition?
Will the transcript be delivered in a format useable to you?
Is the court reporter or the agency able to schedule out of state?
Is tech support available for remote depositions?
Does the court reporter of the firm have conference rooms?
Do they provide litigation support?
The list is not exhaustive. However, it does illustrate that much thought needs to go into whom you hire to be your court reporter. Luckily, all of these concerns are handled by DepoSpan.
Services That Cover the Bases
DepoSpan is the global leader in providing full-service support in the following areas:
Court Reporting. Exceptional court reporting services are available 24/7.
Legal Videography. Video provides an up-close and personal look at a witness that is useable in court.
Litigation Support. Make your litigation process operate smoothly and efficiently.
Videoconferencing. Control costs and optimize time and efficiency.
Case Management. Personalized support ensures the best case management results.
Conference Rooms. Convenient locations when you need them
Regardless of where that subsequent deposition or meeting is, you can rest assured that the location, set-up, and technical support will be ready and waiting for you when you arrive.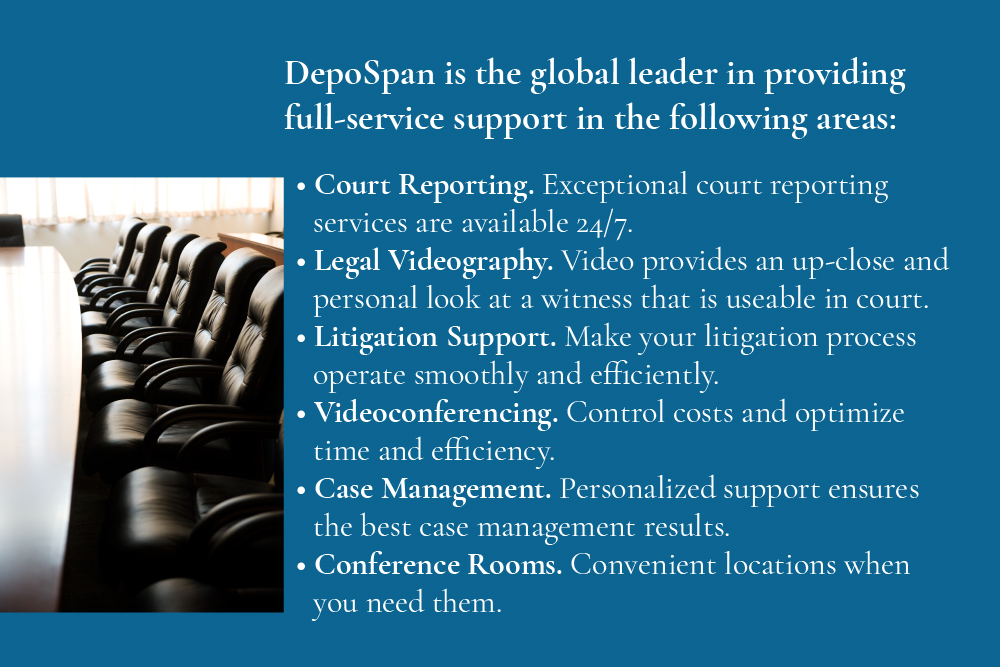 There's no need to ask "how to find an out-of-state court reporting agency." You can locate one in seconds. Click on the link below to search by state, zip code, or firm name.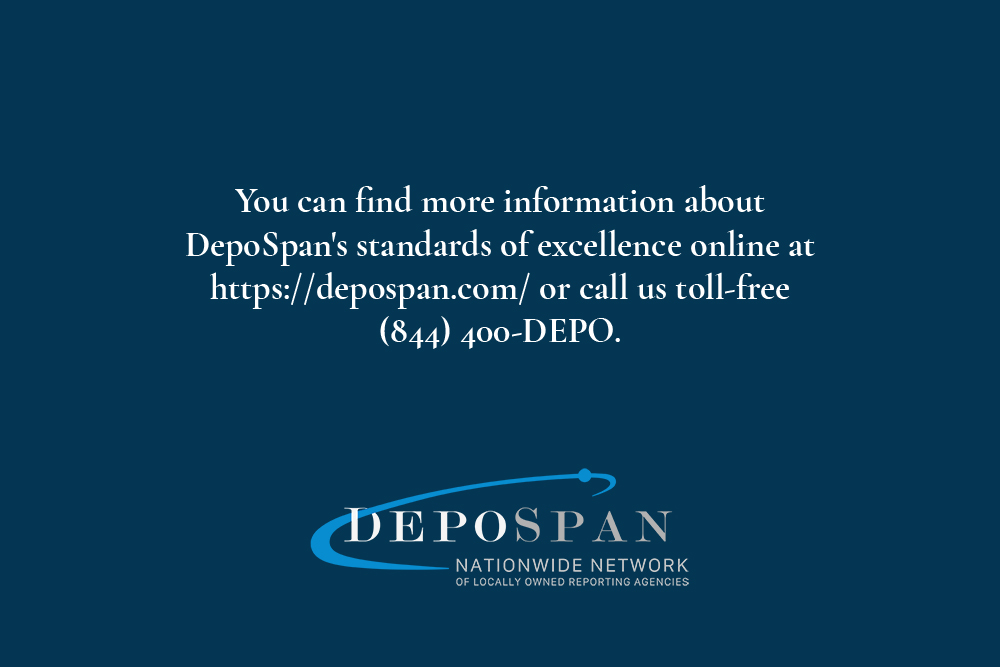 Call or Click Today
You can find more information about DepoSpan's standards of excellence online at https://depospan.com/ or call us toll-free (844) 400-DEPO.